Made In Memphis
3 april 2006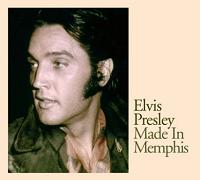 Outtakes recorded in Memphis


In The Ghetto (13)
You'll Think Of Me (8) [Finding The Way Home]
Do You Know Who I Am? (4) [There's Always Me Vol. 2]
If You Don't Come Back (5)
Three Corn Patches (5, 6)
Find Out What's Happening (7)
It's Midnight (11)
Thinking About You (2, 3)
You Asked Me To (1)
Solitaire (7, plus talk)
She Thinks I Still Care (3, 4)
Moody Blue (6)
Bitter They Are, Harder They Fall (1)
Love Coming Down (4)
For The Heart (5)
Baby What You Want Me To Do (*)
I'm So Lonesome I Could Cry (*)
Spanish Eyes
See See Rider
That's All Right

(*) Previously released on Elvis By The Presleys.

Tracks 16-20 was recorded home at Sam Thomsons place in November 1973.


BACK